Large Platform Hoists 500kg – 2000kg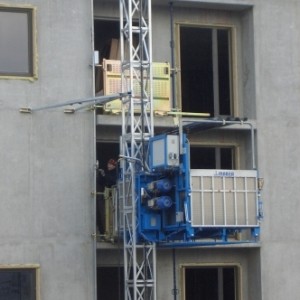 We are able to offer a wide range of large platform hoists from Maber and Electroelsa to suit all types of application and location. Ranging from 500kg to 2000kg lifting capacity and with platform sizes from 1.5m x 1.3m to 3.2m x 1.5m, the hoist we supply will be taylored to your requirements.
When you ring for a quote, we will be happy to send out one of senior engineers to your site to assess and discuss the most suitable installation.
All our large hoist require 3 Phase 415v power on site and must be erected within a scaffold tower or tied directly to the building.
Technical information on some of the hoists available can be found on the Technical Specification Sheets tab above, or by clicking the underlined product name below
Our fleet includes
Maber MB500/120-N
Electroelsa EHM 500
Electroelsa EHM 900
Maber MB C 1000/150
Electroelsa EHM 1200
Maber MB C 2000/150
Maber MB C 2000/150S